Unfortunately we had split success today. It's a shame Rafael was unable to win in London. I thought this was his best chance. I think he was thinking the same too! However there is no shame in losing to arguably the best hard court player in the last 3 years. Nole is on hard courts what Rafa is on clay, an unstoppable force. He simply outplayed Rafa today. In fact, Nadal had no easy service games today. The court played a little slow but Djokovic is perhaps the best mover on this surface and broke Rafa multiple times. To be honest, it was going to be Rafa's belief and momentum that would have given him a chance at winning the year end championship since Djokovic played the tougher opponents and was battle tested for the final. Perhaps, the better player won today.
Nevertheless, I think it has been the best season of his career maybe even better than 2010, given that he missed the Australian Open. 14 finals, 10 titles and so much success on his least favorite surface is no easy feat. Both Djokovic and Federer pointed out how Rafa has adapted his game for the hard courts which resulted in 4 hard court titles in 2013. The No. 1 ranking is simply icing on the cake. If he continues his 2013 run of success into 2014 he is a serious contender in Melbourne.
Words cannot describe how happy I was for Fernando and David. Throughout the match the commentators were complimenting their pairing as well as Fer's ability to cover the entire court + his effectiveness at the net. Holy-moly they played AMAZING under pressure. 🙂 It must have been a disappointing end for the Bryans' year. Normally I don't say the following comment, but those guys have won so many titles and have written history in doubles- it's okay if they let this one slide!
The Spaniards were thrilled with their win, hugging and celebrating with each other. The two ran to their camp overjoyed and there was hugs and jumping galore! What really got to me was the speeches. Bryan Brothers were true sportsmen-so classy. When it came it to the winners chance to speak Fer started to congratulate his family/sponsors/fans. And then David (in his very limited English) spoke. It was kinda sweet, because there were a couple of times he looked at Fer to help with translation. He wanted to dedicate their trophy to his grandfather, who had passed away two years ago on the same date. Fer was speaking for them at this point hoping he wouldnt start crying. What a beautiful dedication.
Spain is very lucky to have such a good handful of amazing players. Their hard work in the sport truly shows. I know Coach Moya is gonna be relieved that he can count on these guys for next years Davis Cup. **You may have to search the ATP channel for their interview, but it's a nice watch!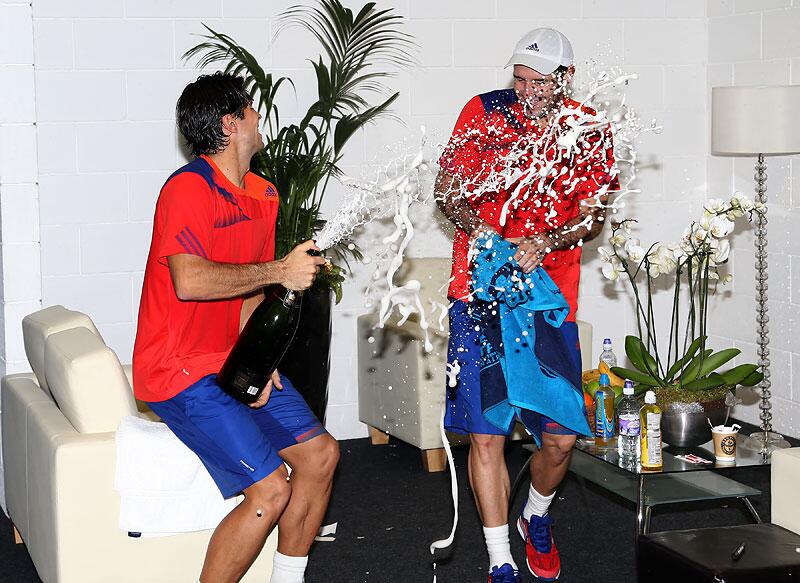 I hope you guys have a great week. Take care.