Rafa and Ferru, among others are in Beijing this week hoping to pick up 500 ATP points as well as gaining some confidence going into next weeks masters. The tournament hosted a players party. Here's a pic from the ATP site.
I can't put my finger on the reason why, but I have to admit I'm a lil nervous for Ferru's first round match against Canadian Pospisil. The Spaniard has beaten him twice before, but maybe it's his recent form? Or maybe I'm over thinking it. I hope he does well. Not many tournaments left in the year and it would be nice for him to do well wherever he can. Tommy was also playing here, but he lost out to the 'Fog' in R1).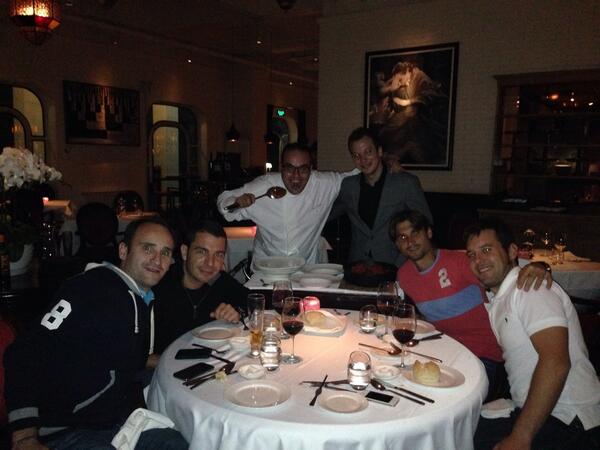 BTW in Beijing Ferru was asked about Novak's recent news of getting married. He responded by saying, "Congratulations to Nole because he will get married, but not me. Not in this moment." I guess Marta will just have to wait! 😉
Of course the number one and two players are playing in this tournament, so I'm sure there will be heavy attendance. Here's whats on the line fore Rafa. If he makes it to the final here, he will return to being ranked one. He has had luck here before as he won the tournament back in 2005. His opening round will be against Kohlschreiber.
The other tournament is going on in Tokyo. Nico [thankfully] passed his first round. Marcel and Feli are also trying their luck out there.