Oh my word… what a night in N.Y.C. These three men. I'll applaud them for their fantastic results at this years U.S. Open. Three Spaniards into the quarterfinals…not bad for Spain, eh?! 😉 This pic says it all!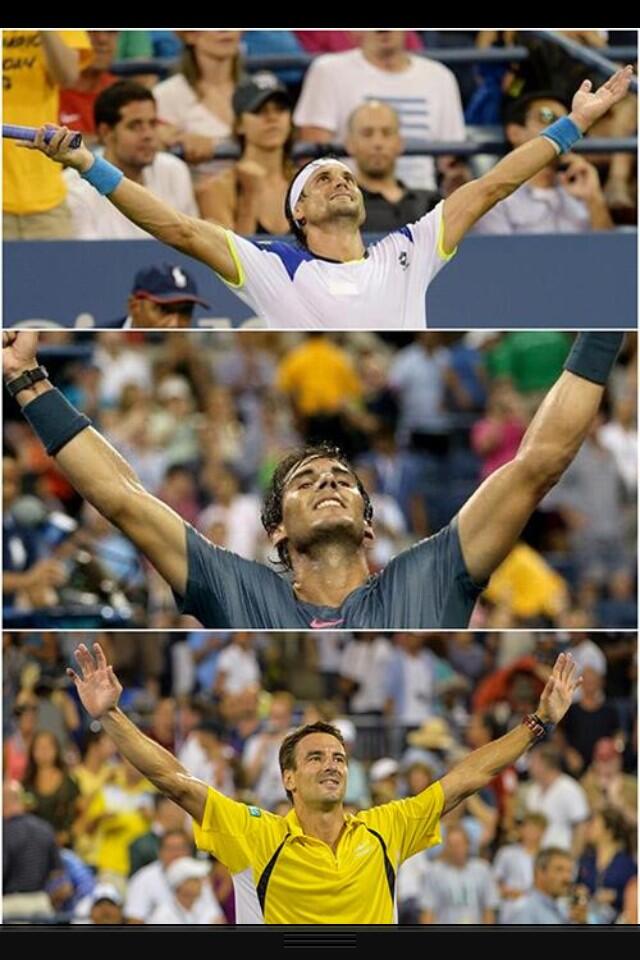 David Ferrer didn't play his *best* tennis against the Serbian, but he was able to get the
W
today and that's what matters. It was a close match, as you can see for yourself
here
. Luckily for him he'll play Richard Gasquet in his QF. Not only does D.F. lead a 8-1 H2H against the Frenchmen, but his opponent will be recovering from a very long 5-set, grueling match that he had against Raonic. BTW, does anyone know what happened to his coach Javi Piles? I haven't seen him in his box for the past week!
Rafa had dropped a tricky first set. He had said after the match that, 'It was very, very tough conditions, very humid". His game picked up soon after closing the match comfortably 6-7, 6-4, 6-3, 6-1.
Roger-Rafa fanatics are going to have to wait again-Perhaps for a match up they may never get to experience at the U.S. Open. Rafa will indeed play buddy Tommy Robredo next. The Mallorcan talked about how he was happy to see T.R. come back from injuries and knew he'd come into their next match with confidence.
Indeed there will be confidence up the wazoo! 😀 Tommy had one of the biggest match wins of his life! He is into his first QF of the U.S. Open! Maybe there is something to coming up with the "yes-I-can" attitudes against Roger these days. The Swiss Master played a horrible match. And I love him too, so it hurts me to write this. It was something like Tommy being able to save 14 out of 16 break chances against himself. Tommy had fewer unforced errors compared to his opponent 26:43. *I honestly wish Roger the best of luck with his future, but I think he's gonna have to get rid of Paul Annacone! Anyway, it's Tommy's night. I hope he celebrated in style. It's going to be very tough for him to beat his fellow compatriot as Tommy is 0-6 H2H against Rafael Nadal.
Tommy said [after his match] that the win in Casablanca earlier this year really gave him a mental boost for 2013; "I just realized that I could be able to just enjoy [it]… and since then I'm just believing and believing and believing…It's an amazing year for me.  Hopefully I can keep going because I'm enjoying [it] a lot." Keep believing Tommy! 😉