Who is ready for U.S. Open? I've been anxiously awaiting it all summer long. All the glitz and glamor along with New York's spectacular atmosphere makes it U.S.A.'s biggest tennis event of the year.
Rafael Nadal is considered the favorite for this tournament. He has the best match win record this year (53-3). He has everything to gain here. Some may say that he's had a terrific summer and perhaps a bit tired now, but I highly doubt that. He was able to take the previous week off, taking in some of New York's culture and was able get some practice in. First up for him is Ryan Harrison.
Anyone excited to see Ferru? I am. 🙂 Of course! It's gonna be a tough for him to repeat his semifinal appearance from last year. He has tricky players like Janowicz or Raonic in his section. His first potential challenge might be Gulbis. 1st round opponent Kyrgios should be easy considering he is an 18 yr old with a 1-1 career win/loss record!
Here's a couple more pics of Ferru. Yesterday he participated in a Prince autograph signing. Of course he had to pose with his sweetheart too, nice to see her in NYC! (I like her outfit)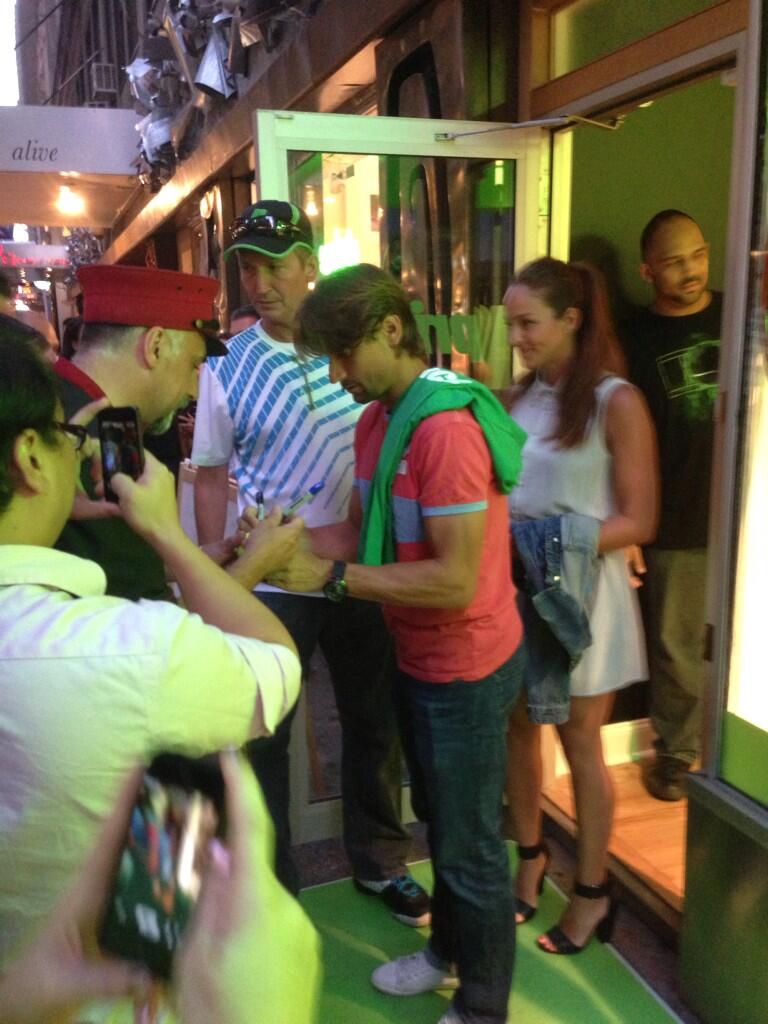 I forgot to post this, it looks like he was able to get some golfing in while relaxing in Iberostar. I didn't even know he played golf! 😀
Fer tweeted this of himself with Nico after their practice. Good luck guys!
The ATP hosted a special Heritage tribute to all of the former (and current) number one's. Included in this elite gathering were players like Johnny Mac, Jim Courier, Ivan Lendl, Mats Wilander…and the list goes on! You can read more about it here.